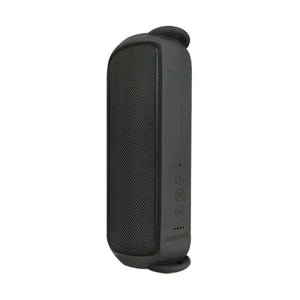 Protects against slips, drops, and accidents when listening on the go. Compatible with the Sonictrek Go XL wireless speaker. As the silicone case is designed specifically for the Sonictrek Go XL it is not compatible with other speakers.
Great for UE
It's well built but not for my Camo but perfect for my UE
Sonictrek Silicone Protective Cover for Go XL Wireless Speakers
Decent speaker could be louder
An essential for the speaker.
I bought the speaker unseen other than a review picture and a favourable review. I added the silicone "cover" as an afterthought at check out, well done Mifo for prising an extra tenner out of me like that.
Once the kit arrived and we had fitted the silicone "cover" ( more like three stretchy straps around the cylinder of the speaker) we immediately congratulated ourselves for falling for the checkout add on sales pitch.
The "cover" adds so much to the usefulness of tte speaker, the shoulder strap with big chunky clips and the very snug fit of the silicone along with the huge moulded volume buttons adds way more to the appeal of this device.
As we take this with us outdoors the strap is invaluable, the fit of the cover great, the overall look classy.
Well done Mifo
Great sound
Really enjoying this powerful speaker and at the price it's hard to beat. It's probably a crossover between the speakers you tend to buy for your own listening which are normally smaller and then suddenly when required lack the volume or sound terrible for the group music experience. This actually does both personal and the group listening music experience very well. Good battery life and waterproof.
wonderful product
received the product not long after the order. quickly try it and astonished with the result. it fitted to the speaker nicely however it would be better it cover most of the speaker.
Nice cover
The sturdy strap is a nice addition. Altogether the speaker and the protective cover are a really good buy. Highly recommend.
Robust, useable protection
Simple to use, yet able to stand up to the big bumps. This cover works well - but doesn't fit in the carry case so has to be removed every time. Otherwise, it's design is great!
Value for money…but
good speaker, ok for volume level and bass levels but battery life is not great. connection via bluetooth is easy, picks up everytime. for under $100 delivered you can't complain but i would like to be able to compare it to something in the next price bracket up.